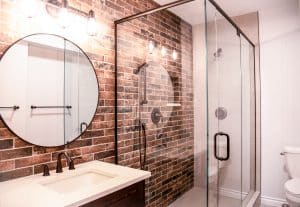 Does your family run into morning traffic jams in the bathroom? Is the tone of your day set by dealing with the inefficient or unpleasant bathroom that you get ready in? Are you looking to raise the value of your home? If you answered yes to any of these questions, a bathroom remodel might be the right move for you.
Remodeling your Edmonton bathroom is a great way to increase your enjoyment of your home, and its functionality. Additionally, a bathroom remodel gives you one of the best ROIs (return on investments) for your money. Whether you plan to stay in your home for a long time, or you want to make it more appealing for future buyers, a bathroom remodel is a solid investment.
But how much will it cost? Turns out that's a tricky question to answer, but we are here to help. Read on to learn why it can be hard to predict the cost of a bathroom remodel, what average costs you can expect to find and why, and how we can help you to have the bathroom of your dreams.
What Does an Average Bathroom Remodel Include?
Bathroom remodels can be pretty basic: replacing the toilet and vanity, re-tiling the floor, and painting. Or they can be complex: changing locations of the various pieces, adding or removing walls, gutting the entire room, and starting from scratch. Many remodels are somewhere in between. Bathrooms include two to four pieces. Powder rooms, also known as washrooms or half-baths have two pieces: a toilet and a sink. Three-piece rooms include a toilet, sink, and shower or tub/shower combo. Four-piece rooms have a toilet, a sink, a tub, and a shower. The more pieces you are replacing, changing, or moving, the more your remodel will cost.
Why is it Hard to Determine the Cost?
Every bathroom remodel, like every kitchen remodel, is different. The scope of work that needs to be done, the current condition of the room, the age of the house, the finishes you choose, how much tile work you want to be done and what style–all of these factors come into play in determining the cost of your specific bathroom remodel. 
The goals you're trying to meet with your remodel also affect the cost. Are you trying to add an upscale bathroom with the hope of increasing your home's appeal and value to sell? Do you want to make your bathroom accessible for yourself or a family member and need to widen doorways and lower sinks? Are you trying to make it more kid-friendly, or do you want a private retreat for yourself at the end of the day? Your answers to these questions will affect the scope of work and types of materials you choose, which will impact your final cost.
What Factors Come Into Play?

Room Size
A basic hallway bathroom (generally around 40 square feet) will require less materials and labor than a master bath (where anywhere from 40 to 100 square feet is average). The larger the room the higher the cost of renovation.
Complex Tile Work
That Reno Guy is known for our beautiful tile work. Basic tile work for our bathrooms consists of porcelain 12×24 tiles or ceramic Subway tiles, laid in either a stacked or staggered format. If you want more complex work, we're happy to oblige. The cost does go up because of the installation labor required. Shampoo niches and benches are common upgrades that also add to your total cost. Read this article for some beautiful tile options for your bathroom remodel.
Moving Plumbing and Mechanics
If you want to keep your bathroom remodel as low-cost as possible, try to keep the mechanics in the same place. Changing the layout of the bathroom–moving the plumbing and/or the electrical–is the most expensive change you can make. It's hard to predict the cost of layout changes because it depends on what you want to be changed and how accessible everything is. Sometimes we have to drop the ceiling on the room below the bathroom to access the plumbing, and that can easily add $5000 to your total cost.
What Fixtures You Choose
For the average bathroom, the plumbing fixture package starts at $2500 and goes up from there. Brass and stainless steel fixtures resist rust, corrosion, and high heat, but cost more than nickel, for example. We can help you choose the best options for your price range and needs.
Showers and Tubs
Shower glass plays a huge role in the total cost of the bathroom. The size and style you need, whether you want framed or frameless, and what style of doors you want–all of this changes your bottom line. Again, we can help you make the best choices for your budget and the aesthetic you want in your bathroom. It's also important to note that showers and bathtubs both will be waterproofed to industry standards, whether you replace those features or update the ones you already have. 
So What Does an Average Bathroom Remodel Cost?
For That Reno Guy, an average bathroom remodel for a basic, 8×5 hallway bath with a tub runs between $14,000-$16,000. Hallway bathrooms with showers start at around $18,000. Master bathrooms with a tub/shower combo usually start in the high $20,000s. Keep in mind that these prices include everything from demolition to painting. We're your one-stop shop for a complete bathroom remodel in your Edmonton home.
While those are our averages, as you have seen, there are a lot of factors that come into play in determining the exact numbers you can expect in your specific bathroom remodel. If it's overwhelming to try to work out your cost, let us help. We're happy to talk with you about your goals for your space, and what work needs to happen to get you there. If you're ready to trade your outdated, tired, cramped, or inefficient bathroom for one that gives you and your family a great start to your day, give us a call. Let's get the process started for you.