If you're considering a remodel of your Edmonton kitchen, you're probably already aware of the many design decisions you'll need to make. One of the most important in terms of setting the tone for the heart of your home is lighting. Choosing the right lighting for your kitchen will make it a warm, comfortable, welcoming place where you and your loved ones want to gather. Not sure where to start? Read on for all the information you need to make the best kitchen lighting selections for your home.
(Photo by Sidekix Media on Unsplash)
Three Types of Lighting
Every kitchen needs three types of lighting: task lighting, ambient lighting, and accent lighting. Using these three types together ensures that your hardworking kitchen is ready for anything from meal prep to relaxing. When you include all three types of lighting, you reduce glare and shadows in your space, and you add depth and visual interest. Used together, these lights are both practical and beautiful.
If you have an open-plan kitchen, lighting can be even more important. You can use lighting to designate zones in your kitchen for food prep, eating, and relaxing. With bright lighting over countertops and softer lighting where you want guests to linger, you set the mood for your space.
Task Lighting
(Photo by R ARCHITECTURE on Unsplash)
Task lighting is just what its name implies: bright lights that make it easy to see what you're doing. Task lights are necessary to accomplish the main task a kitchen is there for: making food. It adds focused light over your workspace–the kitchen island, range, or sink. 
You can add task lighting to your kitchen in several ways:
Pendant lights, especially hanging over the island

Under-cabinet lighting that shines onto your food prep space

Lights over your sink
Pendant lights are a great way to inject style and functionality into the kitchen. Because they hang down from the ceiling, they bring the light closer to your workspace–typically your island. As a general rule of thumb, you want them to hang 30-36 inches above the surface of the island and spaced about two feet apart. The number of pendants you have over your island will depend on how long your island is. 
When choosing a pendant style, note what other design elements you have in the room. You can choose your favorite piece of furniture, your cabinet pulls and knobs, or the color of your backsplash, and select pendant lights that complement that piece. Your lights can become the focal point of your kitchen. 
Under cabinet lighting is helpful because it shines bright, focused light onto your countertops without adding any visual clutter to your kitchen. Use LED strip lights or puck lights. They should be mounted to the underside of the upper cabinets, toward the front. You can install lights that are dimmable, change colors, can be controlled by a remote, are energy-efficient, and more.
Since you probably spend a lot of time at your kitchen sink, don't forget to choose great lighting for that area. Hanging another pendant light over the sink is a popular choice, especially if you select one that coordinates with your island pendants. You can also use recessed or can lighting here. 
Ambient Lighting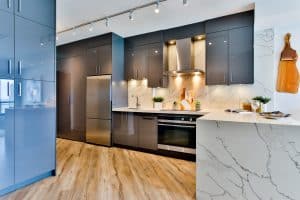 (Photo by Sidekix Media on Unsplash)
Ambient lighting is what you probably think of first in terms of kitchen lights: you walk into the kitchen, flip on the overhead light, and you're greeted by ambient lighting. It's also called general lighting, and it provides even lighting throughout the whole room. 
Ambient lighting can be brought into a room through:
Recessed lights, also known as can lights

Flush mount or semi-flush mount features

Large pendant lights

Track lights
Recessed lights are a great choice for kitchens. These lights have common diameters of 4, 5, or 6 inches and mount into the ceiling. They are often installed in a grid layout, and placement can be customized to your space. Recessed lights don't occupy any visual space since they are flush with the ceiling. This is a benefit if you already have pendant lights in your kitchen because they don't overwhelm the space. The biggest drawback to recessed lights is the fact that they shine light directly down, unlike pendant and flush mount lights that also shine light back up at the ceiling. Because recessed lights aim light straight down, they can cause shadows in your space.
Flush or semi-flush mount lights are easy and convenient options for ambient lighting. They come in many colors, designs, and styles, and the installation often doesn't require any rewiring in your kitchen.
Large pendant lights are a good choice for ambient lighting in a large kitchen, or one with high ceilings. If you're already using pendant lights over your island or sink, you may want to skip this option as too many lights hanging down will result in a lot of visual clutter.
Track lighting is rising in popularity and is often a good choice for kitchens. A track is mounted on the ceiling and then lights are added to the track. The lights can be moved and the direction they point can be changed, and more lights can be added. This flexibility is definitely one of their most valuable features.
Accent Lighting
(Photo by Joe Ciciarelli on Unsplash)
Accent lighting is the final type of kitchen lighting to consider, and the one that brings your space from workable and pleasant to welcoming, relaxing, and enjoyable. Accent lighting draws attention to features in your kitchen that you love: interesting design details, meaningful collections, or loved artwork. Accent lighting gives your kitchen a soft glow that can be restful and calming. It's lovely to eat by the light from your accent lighting, or to sip a cup of tea in the early morning.
Accent lighting can be achieved through:
Cove lights

Puck lights

Lamps
Cove lighting is indirect lighting that is installed on the tops of cabinets, ledges, recesses, or valences. It's often built into crown moulding or trey ceilings. It highlights beautiful decorative ceilings by shining gentle light up onto the ceiling and also on the tops of the walls. It gives a warm glow to the space while directing attention to the room's beautiful architecture.
Puck lights are small round lights that can be used under cabinets as task lighting (see above). But they are also great for accent lighting, highlighting areas and items you love. You can place them inside a china cabinet or glass-front cabinet, for example, to shine a light on your wedding china or special display items. They can also be placed inside drawers and your pantry to illuminate dark corners.
Countertop lamps can be a fun, unexpected addition to your kitchen lighting. Use a small lamp in a dark corner of your countertop and it might end up being one of your favorite additions to your kitchen. 
Layering Light
Think about the use of task, ambient, and accent lighting as adding layers of light to your kitchen. As you layer the different types of light, you create pockets of light and darkness that add depth and beauty to your space. Layering the light allows you to create different moods and atmospheres in your kitchen: energized for work, comfortable for socializing, and relaxed for winding down at the end of the day.
(Photo by Clay Elliot on Unsplash)
Make sure that each type of light has its own switch, so you can adjust the layers of light to suit you. If you put the lights on dimmer switches, you give yourself even more options.
At That Reno Guy, we specialize in creating gorgeous spaces where your family and friends will love to gather. We can help you remodel your Edmonton kitchen and guide you in selecting the best lighting to make it shine. Contact us today and let's get started making your home the perfect place for you.