If you're considering a remodel on your Edmonton home, one important question to consider is how the renovation will affect your home's value. If you're considering selling your home, it's vital that you make sure you're investing your money well and that the upgrades you make will pay off. If you're not planning to sell, you still want to make wise financial investments so that as you increase the functionality of your home through a renovation, you're also increasing its monetary value.
(Photo by Zac Gudakov on Unsplash)
What is ROI?
It's not too hard to figure out whether or not a renovation will increase your home's value when you calculate its ROI. ROI means Return on Investment, and it's a percentage that tells you how much more your home is worth after a repair or remodel than it was before. The higher the number, the better the ROI. You can calculate the ROI by using the following formula:
Value Added / Cost of Remodel X 100 = ROI
For example, say your home was worth $420,000 (the median home price in Edmonton in 2022) before you renovated your kitchen. After the remodel, it is now worth $450,000, so your value added is $30,000. You invested $55,000 into your kitchen remodel:
$30,000 / $55,000 = 0.545 X 100 = 54.5% 
Your ROI on your kitchen remodel in this scenario is 54.5%. 
So which renovations on your Edmonton home will give you the highest ROI? Read on to find out.
#1: Smaller Projects
It might surprise you to know that sometimes, smaller projects give you a higher ROI. At the top of the list is interior paint. Generally, it can cost between $3000-$5000 to completely repaint the interior of your home, according to real estate professionals, and you can expect to see an ROI of between 80 and 110%. That's a great ROI!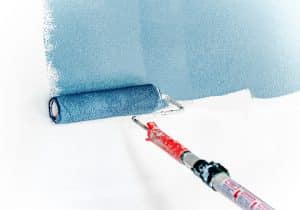 (Photo by Theme Photos on Unsplash)
Other smaller projects with high ROIs include
new flooring, with hardwood and laminate floors both running between 60-80%. 

new windows. Each window you install can give you an ROI of between 75-90%.

a new furnace. If you replace your furnace with a high-efficiency one, you're looking at an ROI of anywhere from 60-85%.

replacing your fence, using pressure-treated wood. This will give an ROI of 60-70%.
#2: Larger Projects
One of the best big projects you can take on if you want to increase the value of your home is replacing your roof with an asphalt roof. Asphalt roofs are a great choice for homes in Canada because they remain pliable in deep freezes but also can take the heat without any trouble. They're wind- and fire-resistant and lightweight. A new asphalt roof will give you an ROI of 75-90%. If asphalt shingles are not for you, a new rubber or cedar shakes roof will give you a 50-75% ROI. Replacing your roof is a good investment.
Another big project with a big return is a double detached garage. If you insulate and heat it, you can expect a great ROI of 60-80%.
#3: Bathroom Renovations
Remodeling your Edmonton home's bathroom is a great way to not only improve your quality of life at home, but also greatly increase your home's value. Generally speaking, minor bathroom remodels will give you a higher ROI, anywhere from 75-100%.
A minor bathroom remodel might include
replacing the vanity and/or the toilet

laying new tile

replacing the shower surround or switching out a tub for a shower

upgrading the lighting

replacing paint and making repairs to walls
(Photo by Sidekix Media on Unsplash)
Major bathroom remodels also give you a great ROI. These might include moving the plumbing and changing the layout of the space, adding all new fixtures and pieces, and replacing flooring, drywall, fans, lighting, and more. This type of remodel will generally give you a 50-75% ROI.
#4: Kitchen Renovations
Another popular remodel, both for increasing ROI and increasing enjoyment of your home is the kitchen. Like a bathroom remodel, a minor kitchen remodel on your Edmonton home will give you the highest ROI, although a major remodel will also significantly increase the value of your home.
A minor kitchen remodel with an ROI of 75-100% will often include
replacing the cabinets

redoing the flooring (replacing with LVP or laminate)

upgrading the appliances

installing better lighting

replacing the countertops
(Photo by Jakob Owens on Unsplash)
A major kitchen remodel often involves making the above upgrades and also changing the layout, building or removing interior walls, adding windows, and more. A remodel of that scope will give you a 60-80% ROI.
#5: Basement Development
Developing a basement space is always at the top of the list when it comes to increasing your home's value. It's a great way to add liveable space without changing your home's footprint, and any time you add square footage to your home, its value goes up. In general, square footage below grade (underground) is less valuable than above-grade living space. Even so, finishing your basement into living space or bedrooms remains one of the best ways to add value. 
Basement development that includes finishing the walls with drywall and paint, adding a full bathroom (toilet, sink, and shower), adding a bedroom or two and a living space, using carpet or vinyl flooring, and installing a drop ceiling can give you an ROI of 50-75%.
Other factors that may affect your finished basement's ROI are
whether you have a walk-out basement, which is the most desirable in terms of ROI

if you have windows or any other natural light coming in

what types of finishes you use

whether or not the spaces you finish are more flexible in terms of use (a home gym or home office) or are very specific (a home theater, for example). The more flexible the space, the better.
It's Your Home
While it's a good idea to think about potential ROI when it comes to making renovation decisions, it's not the only factor to consider. Your home is just that: your home. It's important to take into account what renovations you'll enjoy the most. What changes do you need to make in order for your home to better suit your needs? What would give you the most enjoyment and satisfaction? If a remodel would improve the way you use your home and the way it supports your and your family's life, then it adds a different, equally important kind of value to your home.
We're Here to Help
Whether you want to remodel your kitchen, bathroom, basement, or whole home, That Reno Guy is ready to help. We want to increase both the value of your home and the joy you get from it. Contact us today and let us help you make your dream home a reality.