If you're planning a remodel of your Edmonton kitchen, one of the first questions you'll want to be answered is, "How much will it cost?" Unfortunately, if you ask ten different people, you'll get ten different answers. It's notoriously hard to give a concrete answer to how much a remodeling project will cost because so many factors affect the final price tag. A quick Google search will give you amounts that range from $20,000 to $250,000, which is a decidedly unhelpful answer when you're trying to plan out your budget.
But we can help. A quick discussion of the factors involved in pricing will give you a better handle on why there's such a wide range of answers, and with that understanding will come the ability to more accurately predict your own remodel's potential cost.
(Photo by Collov Home Design on Unsplash)
Why is it such a hard question to answer?
Every kitchen remodel is different. There are so many factors that play into what the final cost will be, including things only you know, like what types and quality of materials and finishes you want to use. Questions like whether this is a home you plan to sell or stay in long term will impact how much you should spend. The Appraisal Institute of Canada suggests that setting a budget of 25% of your home's cost is appropriate for a forever home, while 10-15% is better for a place you plan to sell. Your plans for your home will impact the decisions you make: whether you'll want to hold out for your absolute dream kitchen or make more budget-conscious choices that will appeal to the home's future owners.
Your location also matters. If you live in a historic home your remodel may cost more than if you live in a recently-built subdivision. Extra permits may be required if work is done on a historic home, and older homes sometimes require more work on electrical, HVAC, and other systems.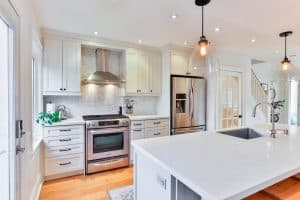 (Photo by Sidekix Media on Unsplash)
What other factors affect the final cost?
Room Size
Larger kitchens cost more to remodel than smaller ones. The cost of materials is more, simply because more materials are needed. And the cost of labor is also higher since there's more work to do and it takes longer to get the work done.
Layout
Are you planning to keep the same footprint your kitchen already has? Then your remodel will generally be less expensive. But if you are planning to make major changes to the layout, you can expect the remodel to cost more. We have found that usually, a layout change starts at $5,000 and goes up from there. Many of our clients want to open up their kitchens–a great idea to add connection to the rest of the house, increase functionality, and modernize an outdated kitchen. For many older homes, this requires load-bearing beams to be installed when walls are removed. This is, of course, an increased cost (although we think it's worth it!). 
If we need to do work on the electrical, HVAC, or plumbing with a layout change, the cost will be affected. For example, if you move a sink from a side wall to a center kitchen island, we will need to move the plumbing significantly. This costs time, labor, and materials.
Finishes
The finishes you choose have a significant impact on the final cost. If you choose all high-end finishes, the cost can go up as much as 50% or more. This may be the single most important factor in what the remodel will cost. What finishes are we talking about?
Cabinets: Cabinets are generally the single highest-cost item in a kitchen remodel. What type of wood do you want? What style? What kind of hardware?

Flooring: From laminate to tile to wood, there are so many options to consider and each affects the final cost.

Countertops: You can choose from marble, granite, quartz, butcher block, laminate and more. Depending on what style you're going for and what quality of materials you want, your countertops could have a broad range of pricing.

Backsplashes: Do you want ceramic tile or the popular (and more expensive) Zellige?

Sinks and Appliances: Will you choose stainless steel? A farmhouse sink? Smart appliances?
Appliances
Speaking of appliances, your final cost will go up if you buy all new appliances, rather than re-installing the ones you already have.
(Photo by Gareth Hubbard on Unsplash)
How is the cost broken down?
As a good rule of thumb, if you're using mid-range materials, you can expect about half of your budget to go toward materials and products, and the other half toward labor. It's always good to add a bit of a cushion to your budget to account for unexpected costs.
According to the National Kitchen and Bath Association, the cost breakdown is generally something like this:
Cabinets: 29%

Appliances: 14%

Countertops: 10%
So, what are the final numbers?
Now that you know all the factors that go into determining the cost of a kitchen remodel, you know what can raise or lower the price of yours. That Reno Guy has found that an average full kitchen remodel completed by us in Edmonton runs about $40,000-$50,000. This places us right in the center of the average for our area, which is $45,000. 
If all this discussion about factors that affect the cost of your kitchen remodel is overwhelming, we're here to help. When we remodel your Edmonton kitchen, we walk you through the process, helping you decide what is most important to you and what will fit best with your house. Specifically, we always help our clients choose their finishes. We ensure that the finishes they want fit well stylistically with the rest of their house, stay within their budget, and maximize the ROI (return on investment) of their remodel. We leverage all our expertise for your benefit!
(Photo by Sidekix Media on Unsplash)
Ready to get started?
If you've been considering remodeling your kitchen, we're ready to help you. Whether you want to keep the same layout, open up the room, or change up the footprint, we can advise and assist you in making your dream kitchen a reality. Our team is dependable, creative, knowledgeable, and respectful. We know how important your home is to you, and it's important to us, too. Contact us today or request a quote, and let's discuss your hopes and plans for your kitchen!